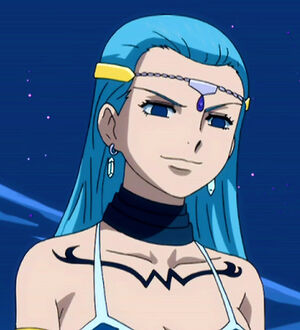 Name
: Aquarius
Meaning
: The Water Bearer
Rank
: S
Summon Cost:
Summoning: 50 | Sustained: 25
Magic
:
Water Magic:
 Aquarius uses Water Magic as her primary source of combat. She uses her urn to call forth the water that she utilises for her water magic using her urn as a medium. Her urn is capable of absorbing nearby water in order to increase the force of her water magic.
Gender
: Female
Appearance
: Aquarius is a Celestial Spirit with the appearance of a royal blue mermaid. She has a long blue fish-tail, blue hair, large breasts, and dons a revealing blue bikini top. She wears two gold armlets on both of her arms and wrists, she also wears a headband and three piercings on her tail and a golden belt on her waist. Aquarius also has a dark blue tattoo resembling the Aquarius zodiac symbol, located on her collar bone. She wields an urn which is the basis of her powers. She was designed to have her appearance as her respective zodiac sign whereby "Aquarius" is depicted as a merman or mermaid carrying a vessel from which is pouring a stream of water, as reflected by the urn and Water Magic which Aquarius employs in battle.
Personality
: Aquarius is a very moody and ill-tempered celestial spirit who will threaten to kill her own. When first first Aquarius will often when summoned either attack the opponent, her owner or both of them depending on her mood. Despite this she does care for her owners well0-being. She is very kind and loving towards her boyfriend, Scorpio, to whom she shows a completely different side of herself. She also goes as far as to threaten her owner to keep quiet about her moodiness in front of Scorpio unless they wants to be a "drowned corpse."