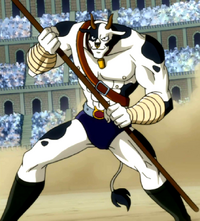 Name
: Taurus
Meaning
: The Golden Bull
Rank
: D
Summon Cost:
Summoning: 10 | Sustained: 5
Magic
: Master Axemanship Specialist: Taurus is a melee-oriented Celestial Spirit who utilizes an axe in battle, and, despite being sometimes portrayed as comically clumsy due to his perverse tendencies. He has great mastery in the use of such weapon: his attacks are not only powerful and capable of breaking through most defenses, due to his high physical prowess, but also fast, with him managing to assault opponents at high speed as soon as he's summoned., Taurus has uncanny accuracy in wielding this signature weapon.
Gender
: Male
Appearance
:
Spoiler:


Taurus is an extremely tall, heavily muscular and athletic humanoid whose physical features are highly reminiscent of both a bull, as his theme implies, but, most notably, of a cow. His body is covered in a black and white pattern similar to those of dappled cows, and the upper part of it, from the waist up, seems more massive than the lower one. His head is bovine in shape, with small, elongated ears jutting outwards from the sides of his head, and a pair of horns, testifying him as a bull, sitting on top of it. He has dark eyes, and his flat nose bears a large golden ring in it, similar to those carried by real bulls. His muscular chest bears six udders, two on his pectorals and four on his upper abdominals, something which makes him yet again resemble a cow. The tail sprouting from his back, ending in a dark tuft, is quite small, if compared to the large mass of his body.

Taurus' massive body is mostly left bare: he's shown wearing a dark indument, similar to a pair of swim briefs, covering his groin, held up by a red, studded belt, with a circular, thin, golden metal buckle, with a pair of curved protrusions jutting outwards from it in its upper part. He also wears simple dark boots with lighter upper edges, consisting of three lines circling his legs, and has a red belt circling his neck, to which a golden cowbell is attached. His forearms are wrapped in bandages, and he wears brown fingerless gloves. Crossing his chest diagonally and passing over his right shoulder is a large, plain dark belt closed by a simple buckle, to which Taurus attaches his signature axe when he's not using it
Personality
: Taurus is a very perverted and fun-loving character. However, when the time calls for it, he can be focused to protect his summoner as he becomes quite the formidable warrior.